But the additional waiting time did not faze Barty, who performed with distinction against a rival who had claimed the biggest title of her career in Montreal last August.
Barty's serve again proved impregnable, as it has for much of the summer.
She scarcely gave her talented rival a chance on the delivery on Friday night, winning all but two of the 29 points played when she landed her first serve.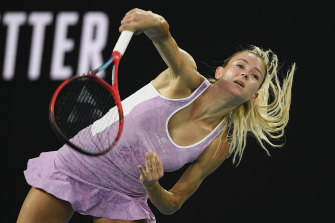 She has now won 57 straight service games after averting a "tricky one" when facing three break points at 4-2 in the first set.
The 25-year-old was surprised before the match by her childhood coach Jim Joyce, who had flown into Melbourne from Brisbane to watch the champion he once guided.
Barty can still recall a critical piece of advice from those early coaching lessons she received in Ipswich when still in primary school.
"I saw him an hour before my match [and said], 'Mate, what are you doing here?'," she said.
"I didn't know that he was coming down. It was nice for him to be here. He challenged me when I was young to be the most complete player we can be. We are getting there."
Prior to the match, Barty said there would be times where it would be played without much input from her, such is the firepower the Italian possesses.
Giorgi is renowned as a blazing ball striker who can thump winners from anywhere, which did happen from time to time.
Loading
As brilliant as Barty is on the offensive, her defensive capabilities and capacity to draw rivals into areas they are uncomfortable has been as critical to her stunning success.
She did more than enough to unsettle the Italian, who struck 24 unforced errors for the match compared to the 13 made by the reigning Wimbledon champion.
Watch all the action from Melbourne Park on Nine, 9Gem, and 9Now.