Novak Djokovic fans Krstomir Dusanovic and Slobodan Bendjo were out the front of Melbourne Airport's international arrivals terminal this morning to show their support for the tennis star with a piano accordion and a Serbian flag.
They had heard the news about the world No. 1's visa cancellation and wanted to show "love is the only option".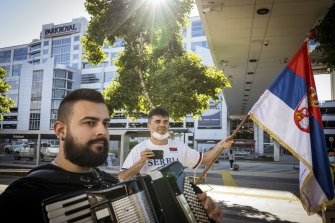 Mr Bendjo arrived at the airport late last night and was yet to sleep.
"We've heard a lot of news these days and quite negative news. But we came here to bring some positive energy to that," he said.
Loading
"[We think Djokovic] is still here somewhere behind these walls.
"When he was coming here before, we used to go welcome him with music. So this is like a tradition thing, and we came here today as well because we think it's really, really important to continue that tradition."
Mr Bendjo said the pair were disappointed about Djokovic's visa being cancelled.
"We have no influence. But as I said before, we still continue doing things that we used to do."