When they first spotted the remains poking out of some clay, team members at the trust were unsure about their origins and suggested that they could simply be pipes.
After speaking to Rutland council, experts from the University of Leicester were called and the ichthyosaur skeleton was identified.
The remains were dug out by a team of expert palaeontologists from around the UK in August and September. They worked in partnership with Anglian Water, Rutland County Council and the trust and were supported by volunteers with experience in excavating fossil marine reptiles, including members of the local Peterborough Geological and Palaeontological Group.
The skeleton was also surrounded by the remains of ammonites and belemnites, squid-like animals, which may have been feasting on the animal's remains. Scientists said that the discovery could give them a better understanding of their ecosystems.
Although two incomplete and much smaller ichthyosaurs were found during the initial construction of Rutland Water in the 1970s, experts said that it was unusual to find a specimen of this kind in the Midlands. Remains are usually found across the Jurassic and Yorkshire coast.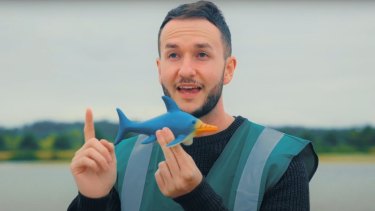 Loading
Dr Mark Evans of the British Antarctic Survey said it was a "highly significant discovery both nationally and internationally", while Nigel Larkin, a specialist palaeontological conservator, added: "It's not often you are responsible for safely lifting a very important but very fragile fossil weighing that much.
"It is a responsibility, but I love a challenge. It was a very complex operation to uncover, record, and collect this important specimen safely."