Firefighters battled a major blaze at South Africa's Parliament complex on Sunday that sent a dark plume of smoke and flames into the air above the centre of Cape Town and caused some ceilings of the building that houses the national legislature to collapse.
The fire started on the third floor of an old building that houses offices and spread to the National Assembly building, where South Africa's Parliament now sits, Minister of Public Works and Infrastructure Patricia de Lille said.
"The fire is currently in the National Assembly chambers," De Lille told reporters at the scene. "This is a very sad day for democracy, for Parliament is the home of our democracy."
City of Cape Town Fire and Rescue Service spokesman Jermaine Carelse said no injuries were reported. Parliament was closed for the holidays.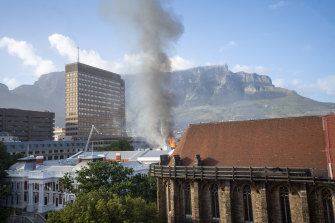 Security guards first reported the fire around 6am, he said, and 35 firefighters were on the scene. Some of them were lifted into the Cape Town skyline on a crane to spray water on the blaze from above. They were still fighting the fire more than six hours later.
South African President Cyril Ramaphosa was briefed on the fire, De Lille said, but it was too early to speculate on a cause. She said authorities were reviewing video camera footage.
The deputy minister of state security was also at the Parliament complex. Parliament speaker Nosiviwe Mapisa-Nqakula cautioned against speculation that it was a deliberate attack.
"Until such a time that a report has been furnished that there was arson, we have to be careful not to make suggestions that there was an attack," she said.
President Ramaphosa and many of South Africa's high-ranking politicians were in Cape Town for the funeral service of Archbishop Desmond Tutu, which took place on Saturday at the city's St George's Cathedral, about a block away from the Parliament precinct.