Jean-Jacques Savin, a 75-year-old French adventurer who was attempting to row across the Atlantic Ocean solo, was found dead inside his boat on Saturday after he had sent out distress signals in the days before, his team said.
The Portuguese coast guard found the boat overturned near the Azores, the Portuguese archipelago, on Friday and dispatched a diver on Saturday.
Savin had activated his distress beacons on Thursday night into Friday morning, the statement said. An earlier statement from his daughter, Manon Savin, was posted by his team to his Facebook page, saying that the beacons signalled a situation of "great difficulty." French, Portuguese and American officials were immediately alerted, she said.
The team declined in the statement on Saturday to elaborate further about his death, as the full circumstances were not yet clear.
Savin had celebrated his 75th birthday at sea on January 14, two weeks after departing from Portugal on January 1 in what he had described as his "last challenge at sea," rowing across the Atlantic from Portugal to the Caribbean. The journey was estimated to take about 100 days.
"Unfortunately, the ocean this time was stronger than our friend," the statement said, "he who loved navigation and the sea so much."
In his last dispatch posted on Facebook before sending the distress signals, Savin said that his solar power device, used to charge the machine that desalinated his drinking water, was not working, forcing him to use a manual device that "costs me physical energy".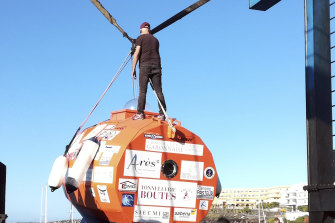 "Don't worry, I'm not in danger!" he wrote. Savin also mentioned a forecast of strong swells and winds but expressed optimism that the strong winds would help push him toward the Azores.