Organisers of the popular Lorne Pier to Pub open water swimming race have decided to cancel this year's event in person, and make it virtual, "due to the developing COVID-19 situation".
A statement on the Lorne Surf Lifesaving Club website says: "The township of Lorne and volunteer lifesavers are already feeling the many impacts of COVID.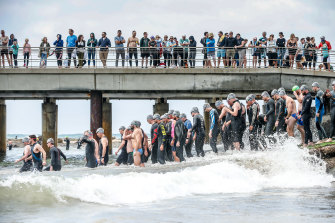 "Lorne SLSC's focus is on the safety of the community, members, visitors and holidaymakers and as a result, the 2022 Powercor Pier to Pub Swim and Powercor Mountain to Surf Run will be virtual events."
The event was due to be held on Saturday and attracts around 5000 swimmers each year.
Loading
Race director John Takac issued a statement saying: "With our focus on health and safety and the potential impact on our community, competitors and volunteers, we have arrived at this difficult decision out of an abundance of caution.
"Our event has a proud history of volunteerism and community support. With case numbers across our volunteers rising in line with the broader community, we feel we will not be able to properly support the event to maintain safe conditions for all" he said.
"Like many other parts of Australia and the world we are seeing an increase in cases in Lorne at the moment and this is having a significant impact on the local health system, traders and the wider community. "
The new race format was used by organisers earlier in the pandemic and allows people to compete "virtually" by sending in their times as recorded by smart watches or other training technology.