NSW Deputy Premier Paul Toole has tested positive for COVID-19.
He says he has already been in isolation for a week because he was a household contact of a confirmed case.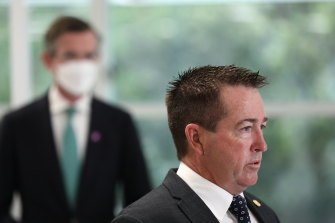 The Nationals MP will now complete a further seven days of isolation.
"It's been a long week in our house, with my oldest daughter getting COVID-19 at the start of the week, followed by my wife and youngest daughter, and then my son," he wrote on Facebook.
"Today [Sunday] my results have come back and I have tested positive too.
"Fortunately, I have very minor symptoms including a sore throat and a little bit of a temperature from time to time.
"We will continue to see case numbers rise and they are expected to peak towards the end of January.
"At least the dogs are still happy to see me whilst we're working together in the backyard."
Mr Toole's positive test on Sunday came as NSW reported its deadliest day of the pandemic (16 people died with COVID-19 during the 24-hour reporting period). A further 30,062 cases were identified.